Symantec is the trusted provider of Internet infrastructure services for the networked world. Billions of times each day, Symantec's SSL certificates, identity and authentication, allow companies and consumers all over the world to engage in trusted communications and commerce.
Symantec Products
Easy to Secure: Vulnerability Assessment and Malware Scanning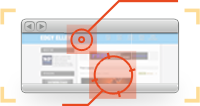 Is your site protected against the latest security threats? Choose a Symantec SSL Certificate with free vulnerability assessment to help quickly identify and take action against the most exploitable weaknesses on your Web site.
All Symantec SSL Certificates include daily Web site malware scanning to alert you if your Web site is infected with malicious software. The combination helps extend security beyond https to your public-facing Web pages and reduce the risk of being blacklisted by Google or other search engines.